My thoughts on Rowan
The stylish free serif font Rowan is delightful for several reasons. It has something traditional, warm and classy. But not in a dusty or old-fashioned way, it seems fairly sophisticated and contemporary. The moderate contrast and slightly edgy design contribute to that, giving it a unique, but not distracting appearance. All that with the capabilities of a variable font.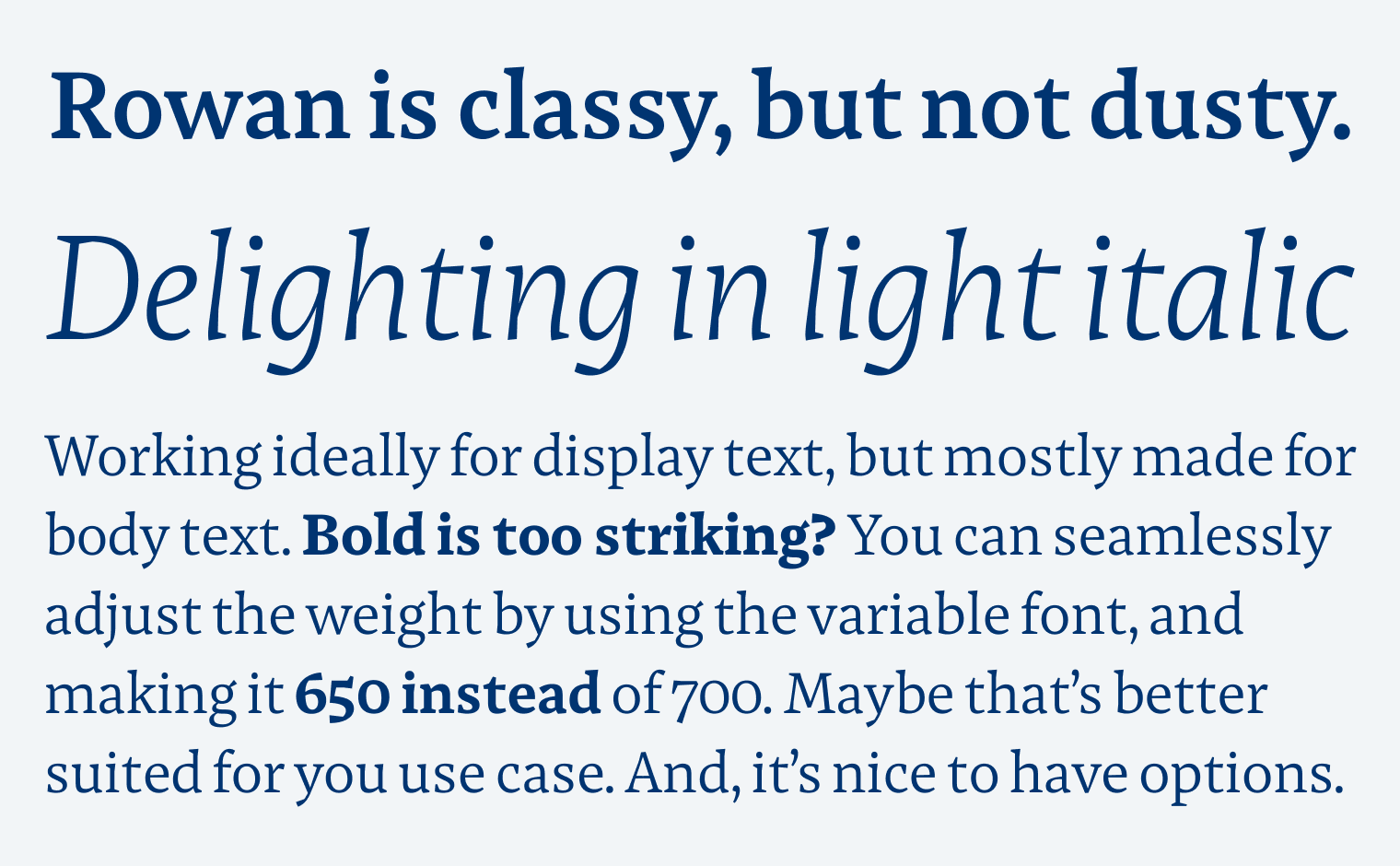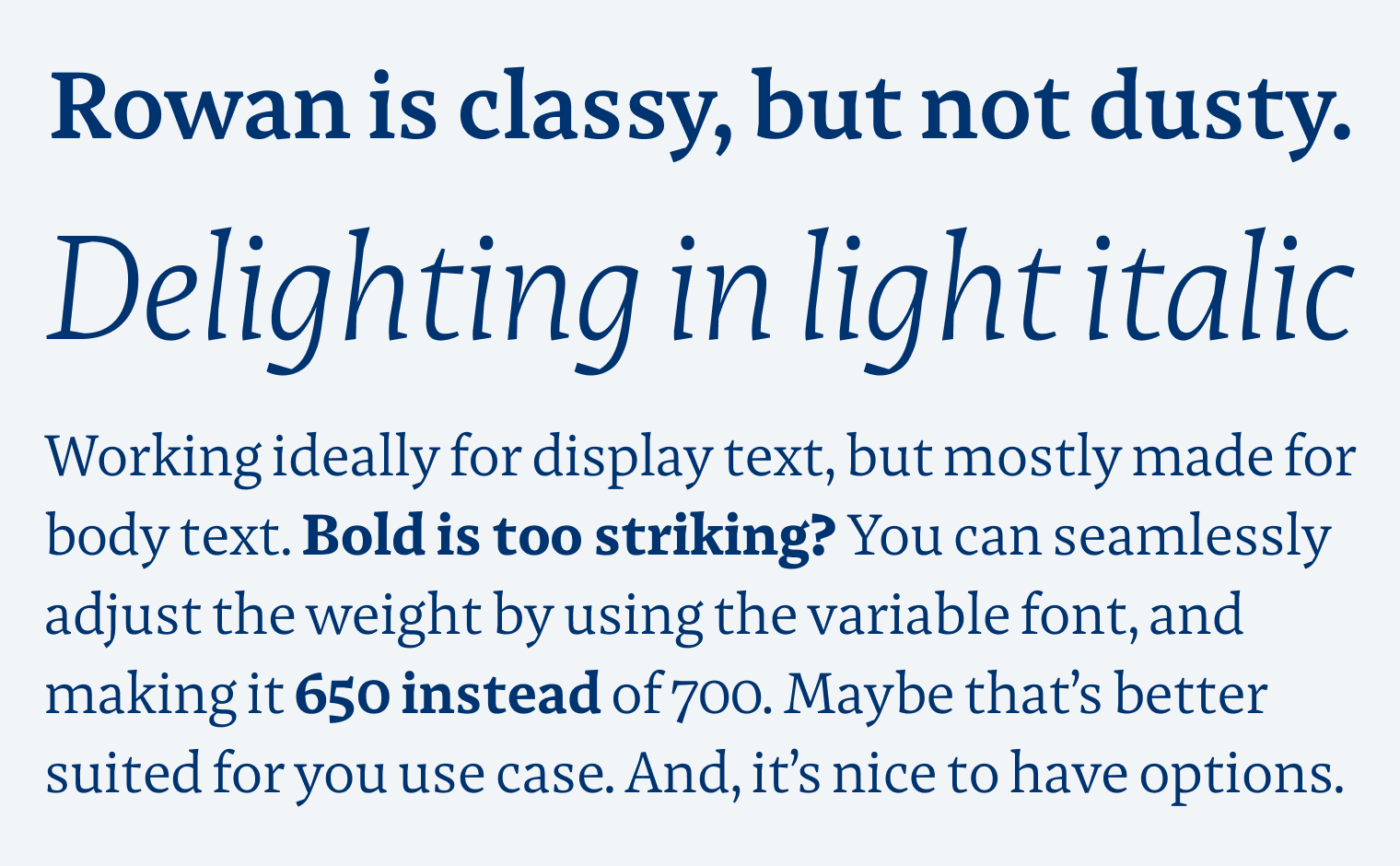 When it comes to evaluating if a typeface is suited for a certain application, a good approach is to see how it performs versus other popular choices. Comparing it to Times New Roman, it becomes evident how uneven, spotty and unsuited this overused classic is. Especially for body text and on the web. Rowan appears sturdier, and more readable.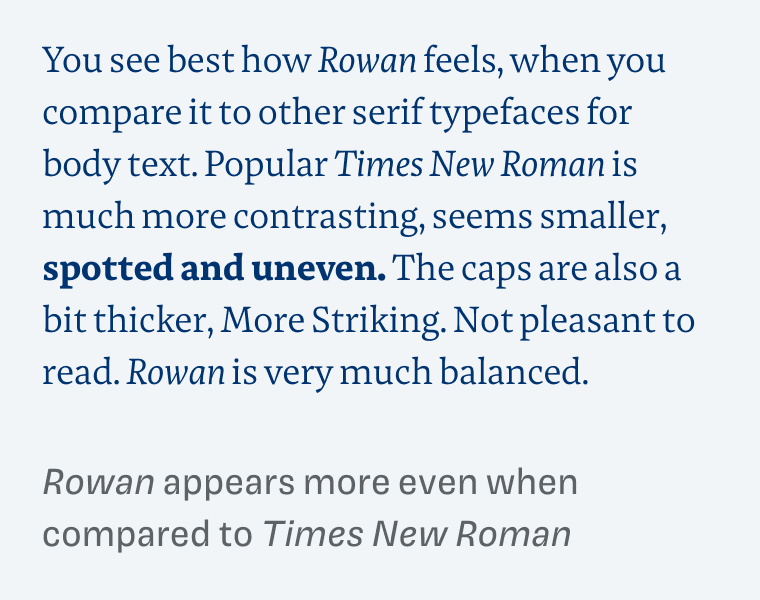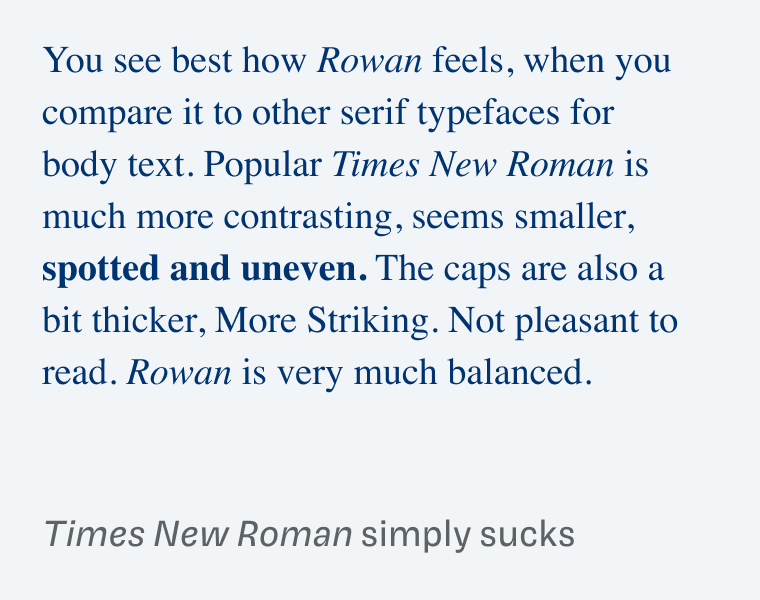 But when compared to the popular Google Font Merriweather, Rowan suddenly almost seems delicate and tender, while the bold text stands out stronger among the Regular weight. So between these two overused extremes, Rowan claims a more unique and practical middle ground.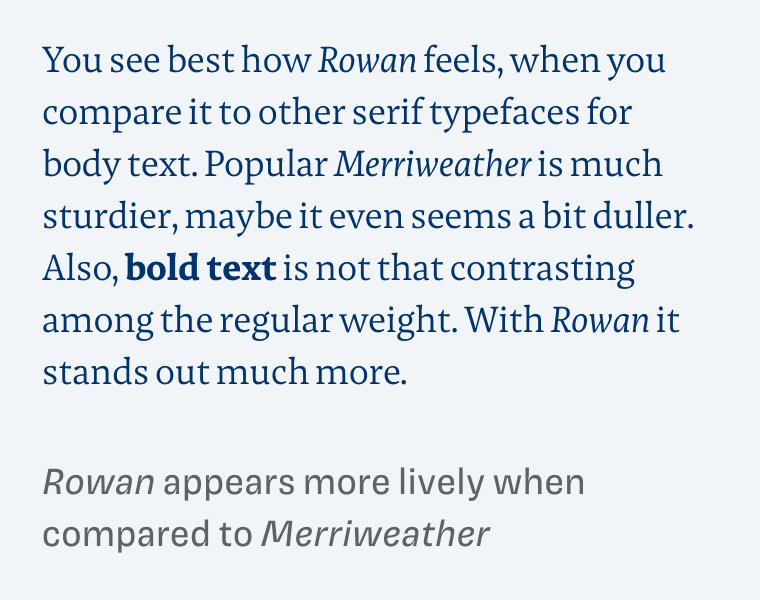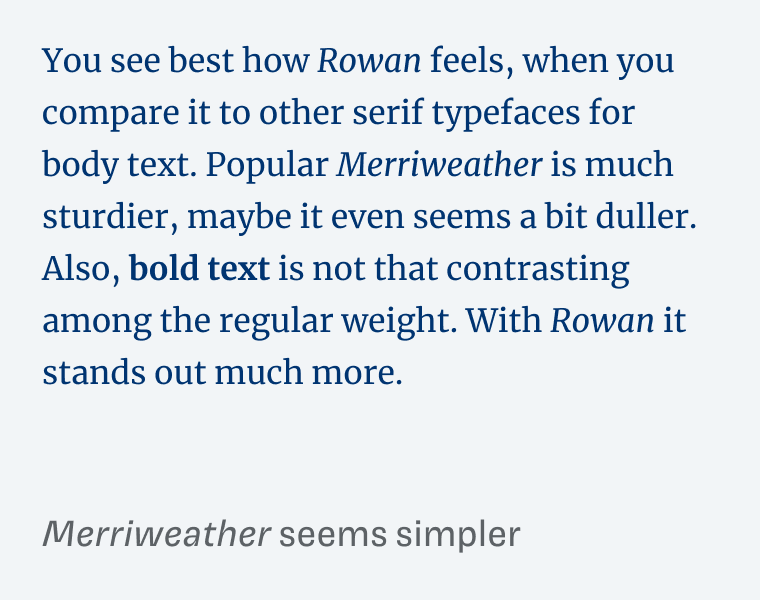 An adorable little feature are the stylistic alternates that remove the top-serifs of certain ascenders, turning them in to swelling flairs at the top of the stems. I can imagine this being useful for headings or other display text. For long reading text, I recommend avoiding it.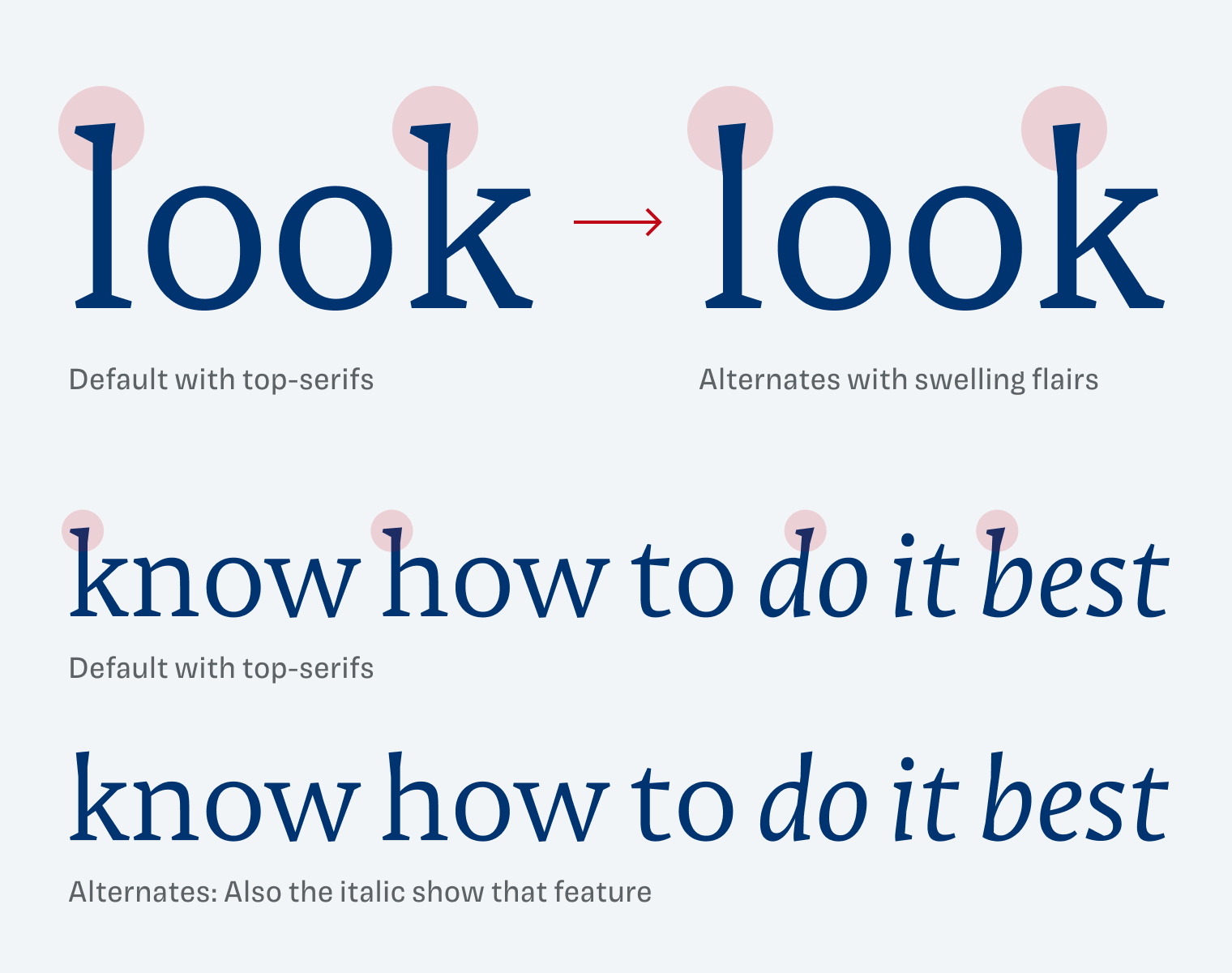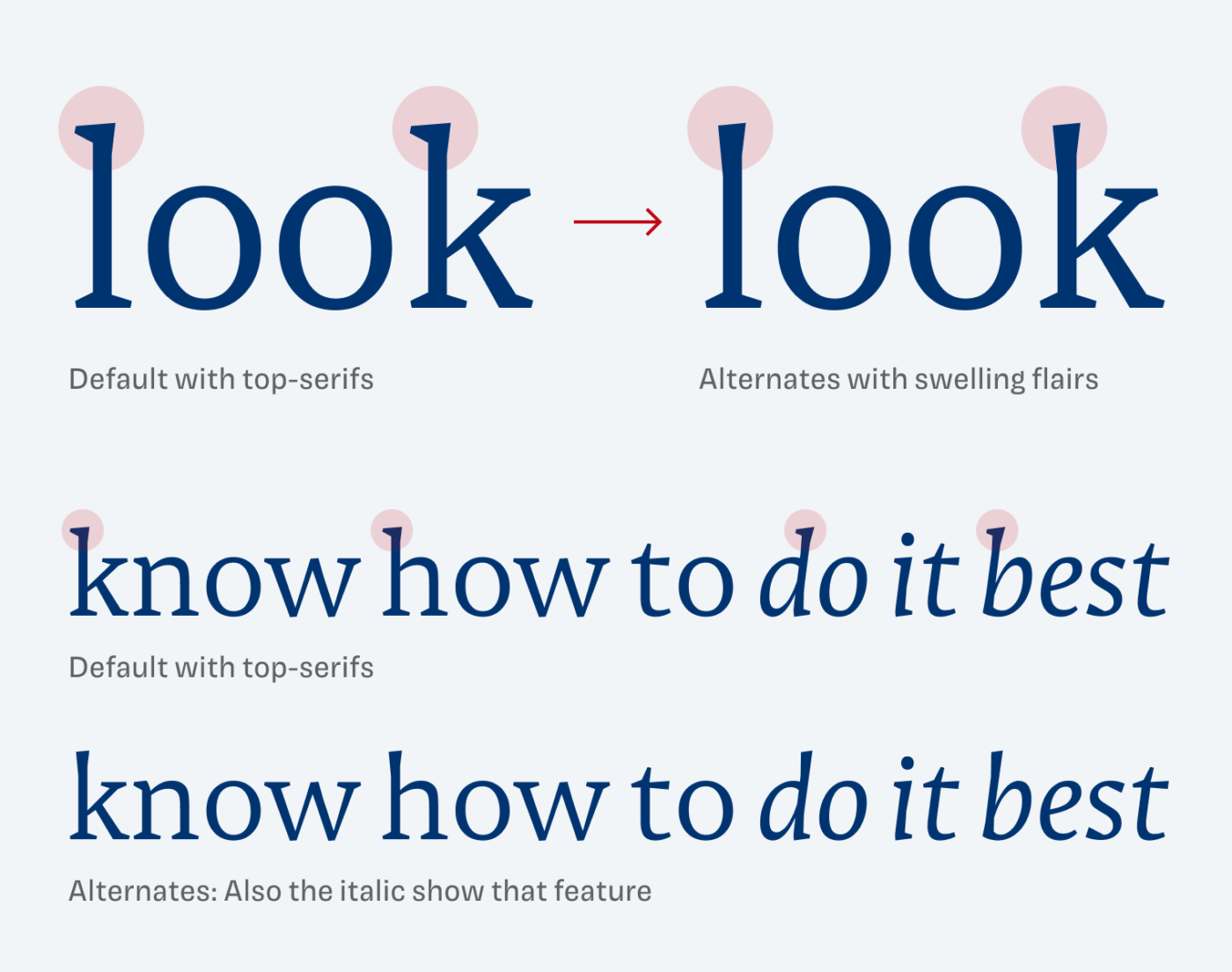 Quick side note, Rowan was designed by Inga Plönnings, the same brilliant woman behind Magnet (the typeface on this site used for headings and captions). So if you need a traditional but not dated typeface for your next copy or headings, Rowan definitely is a good way to go.
Recommended Font Pairing
Looking for an interesting typeface for headings? Choose the eccentric stencil typeface Ella. Or make it more modern by combining it with geometric Plus Jakarata Sans.
Rowan
(free)
for Headings, Copy
Ella
for Headings
Plus Jakarta Sans
(free)
for Headings, Copy, UI Text
Learn more about pairing typefaces using the Font Matrix.
---
Many thanks to Lorcan, who is also a valued Patron of Pimp my Type, for suggesting Rowan to me. If you found a great typeface for an upcoming Font Friday, write it in the comments 😉.