My thoughts on Piazzolla
I immediately fell in love with Piazzolla when I saw it. It's a lively, edgy serif serif typeface that conveys a personal style. But most of all, it's a type system that makes use of one of the greatest things variable fonts made possible in a seamless way – optical sizing. This means it improves the text legibility at small sizes. Best of all is, that it works automatically in all modern browsers. It might be a super tiny detail, but take the time to compare the different states, taken from Piazzolla's mini site: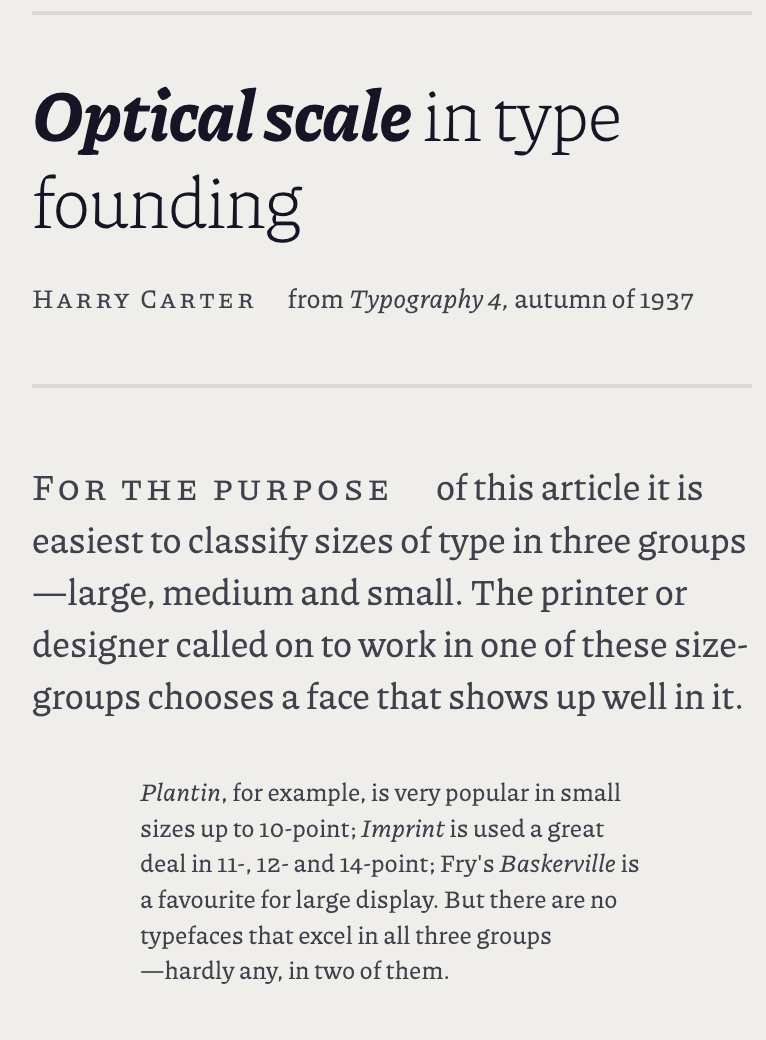 Piazzolla certainly is not for everybody, the larger and contrasting it gets, the more personality it shows. But it also is very calm and quiet at reading sizes. There, its tight leading brings you solid lines and robust paragraphs. This is one of those typefaces where I can't believe that it's available for free. All the better, because this will spread good typography more easily.
Recommended Font Pairing
Piazzolla is a dynamic, contrasting, serif typeface. It would make a harmonious pair with a similar form model, like the dynamic linear sans-serif Gratimo Classic. But a rational linear sans-serif like Magnet, or Familjen Grotesk make a contrasting match.
Piazzolla
(free)
for Headings, Copy, some UI Text
Ella
for Headings
Grato & Gratimo
for Headings, Copy, UI Text
Magnet
for Headings, Copy, UI Text
Familjen Grotesk
(free)
for Headings, some Copy
Learn more about pairing typefaces using the Font Matrix.
Update: Piazzolla is also the typeface you see in the body text of this very page. Learn more about my process of selecting it in this article.
---
What do you think? Is Piazzolla something for an upcoming project? Tell me in the comments below!