My thoughts on Kyiv*Type Sans
Kyiv*Type by Dmitry Rastvortsev is a fascinating type series designed for Kyiv city identification. It caught my attention as a variable font, offering a lot of room for typographic expression with a weight, width and midline axis. The letter forms are pretty distinct and some features are very unusual – like the g with its vertical ear, the triangular dots on the i, or the bend at the y. I love how contrasting it can become, especially in the bolder weights.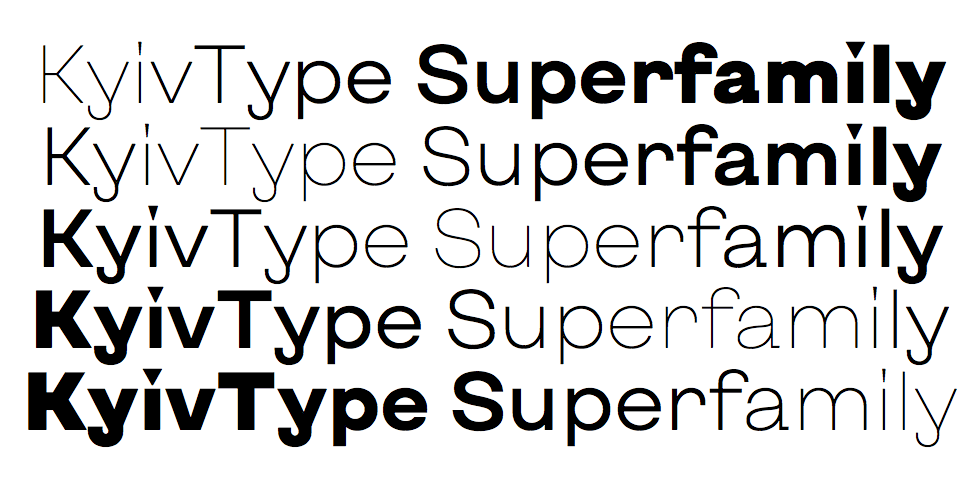 All this makes Kyiv*Type Sans ideal for expressive display text. For a little body text it will work, but since some letter shapes are very attention grabbing, I would not recommend using it for very text heavy applications. It will look very noisy very quickly and distract from the content. The same goes for functional text – it's rather wide and also a bit too much there. Also check out the even punchier companions Kyiv*Type Serif and Kyiv*Type Titling, which truly make this a type super family.
Recommended Font Pairing
If this typeface is too eccentric for in body text, I recommend pairing it with Beatrice, that also has a lot of interesting contrast going on. Alternatively, a geometric linear sans-serif typeface like Figtree makes a good match.
Kyiv*Type Sans
(free)
for Headings, some Copy, some UI Text
Figtree
(free)
for Headings, Copy, UI Text
Beatrice
for Headings, Copy, UI Text
Learn more about pairing typefaces using the Font Matrix.
---
But what do you think? Is Kyiv*Type Sans something for an upcoming project? Tell me in the comments below!