I am joined by the lovely author and typography professor Indra Kupferschmid to chat about type classification and combining typefaces. We cover why the old systems don't work, and touch on a font matrix. It's a brilliant way by Indra, that tells you how to describe typefaces differently, and helps in making better decision in pairing them.
Besides that, Indra also shares:
how calligraphy taught her why letter forms change when using different writing tools.
that her student's don't feel that intimidated by combining fonts.
why popular typefaces like Roboto and Inter work so well and still might stick around for some years.
Listen to the Podcast
Next to the video on YouTube, you can also listen to this episode audio only. To make the Font Matrix a bit clear, check out the graphics below. You can find it on Apple Podcasts and Spotify, or simply listen to it here:
Talking Points
00:00 – Introduction
04:36 – Greeting to Indra Kupferschmid
05:36 – Avoid flipped apostrophes (should look like a 9)
08:01 – Consistent typography makes text easier to understand
11:44 – Categorizing typefaces
16:23 – About historic type classifications
20:07 – Why the old type classification models don't work
22:31 – Filtering Fonts to make it easier to pick one
25:55 – Filtering based on features
27:54 – Terminology is the biggest problem, better describe what you see
28:59 – The Font Matrix
38:04 – Creating contrast
39:50 – Don't use too light typefaces for body text
43:23 – Why are Roboto and Inter so popular for UI design?
48:25 – Why there are so little serif typefaces on screen?
53:59 – Are more typefaces now shown than images?
56:03 – Rapid Round of questions
58:32 – Goodbye
In the search of the perfect system
As humans, we try to sort the world, to make complexity easier to understand. And this is not different with typefaces. When there are so many options to choose from, you need a way to group and categorize them, to find what you are looking for. Traditional systems are mostly dated, have reached their limits, or are little practical. And very broad categories, like we find them on Google fonts, still leaves you with too many options to make up your mind.
Pimp my Type on Patreon
Get several benefits while supporting my content creation.
Join Patreon
The Font Matrix – A different way of seeing typefaces
This is where Indra Kupferschmid comes into play. She is a typography professor, and in her work, Indra described a way how to look at and structure typefaces differently. Let's call it the Font Matrix. I encountered it several times, but I never really tried to fully understand it. Until recently when I was preparing a workshop. And then it opened my eyes. After 15 years of doing typography, I never saw typefaces so clearly. Something in my perception shifted. To be honest, the Font Matrix needs some time to understand, and today we only touch on that, and I followed with another article and video that explains it more visually. But understanding it really pays off, because it's a super versatile tool to help you make better decision for choosing but mostly combining typefaces.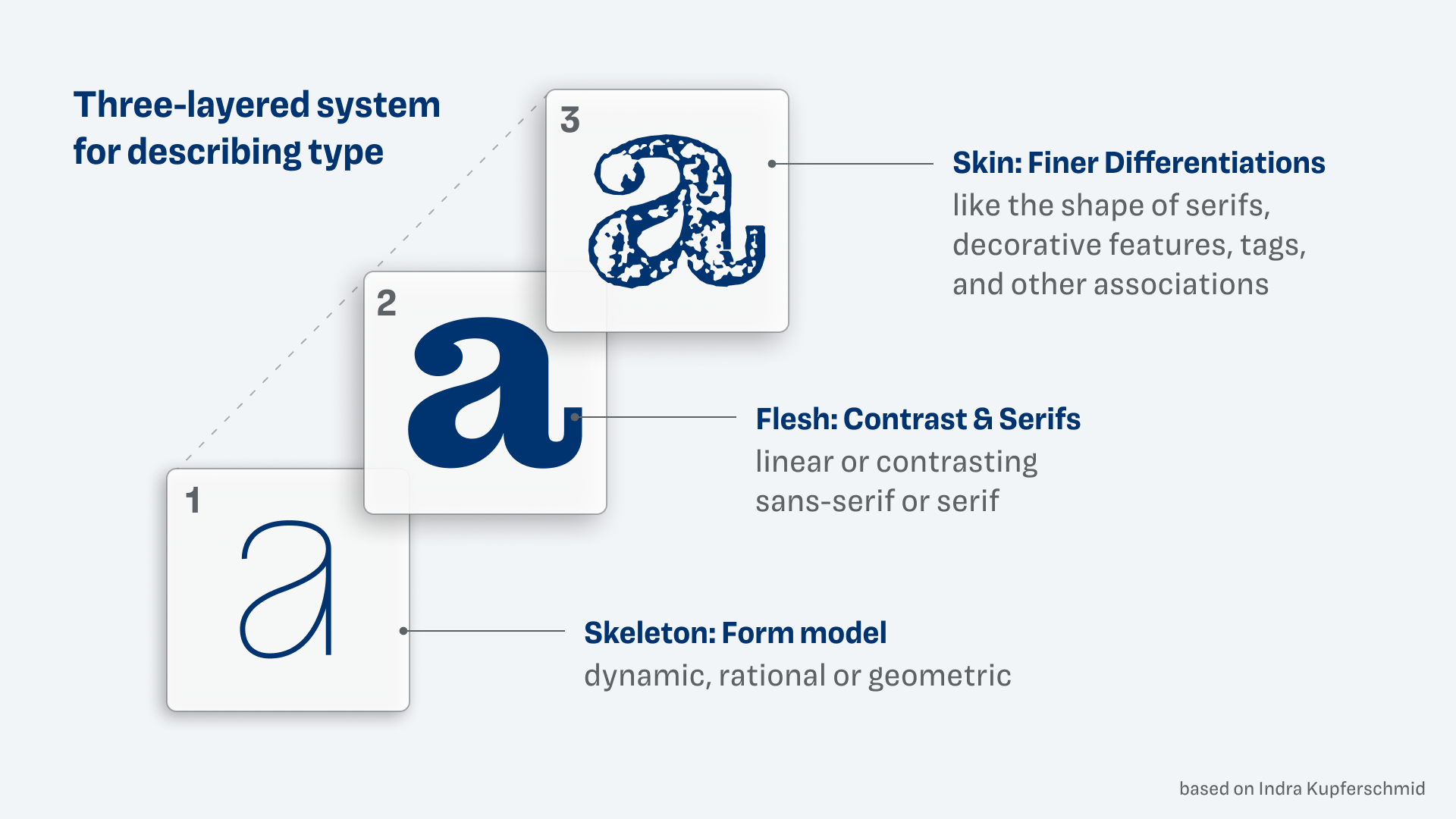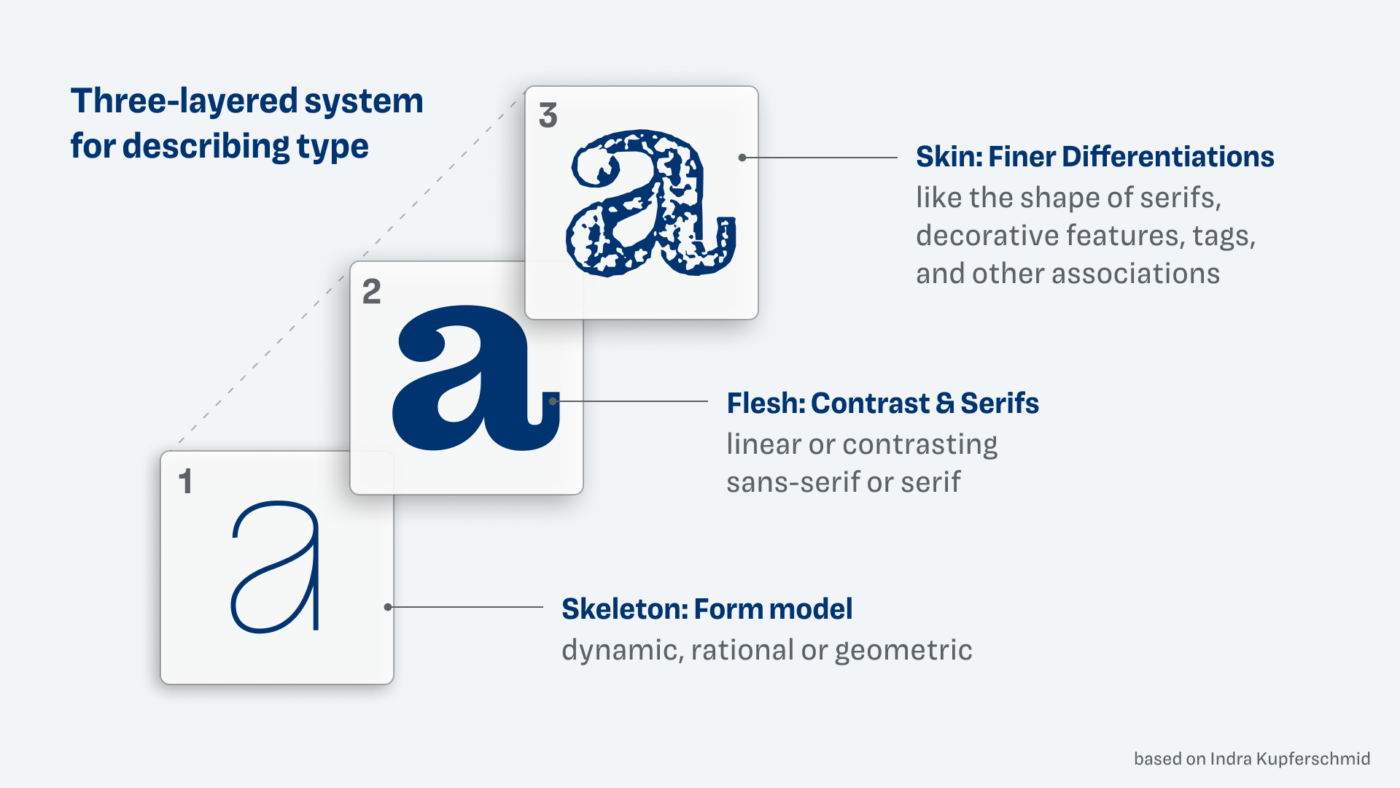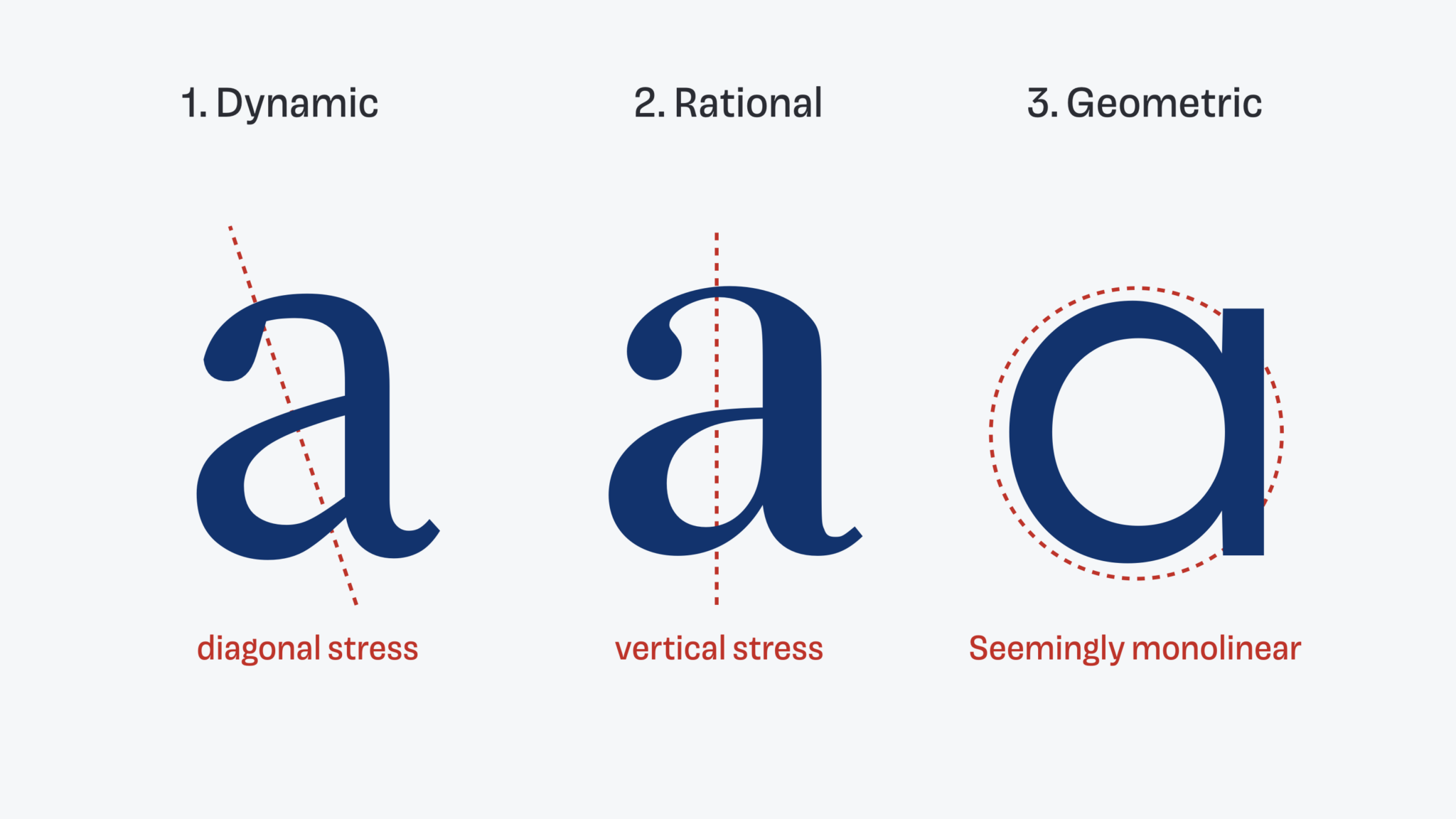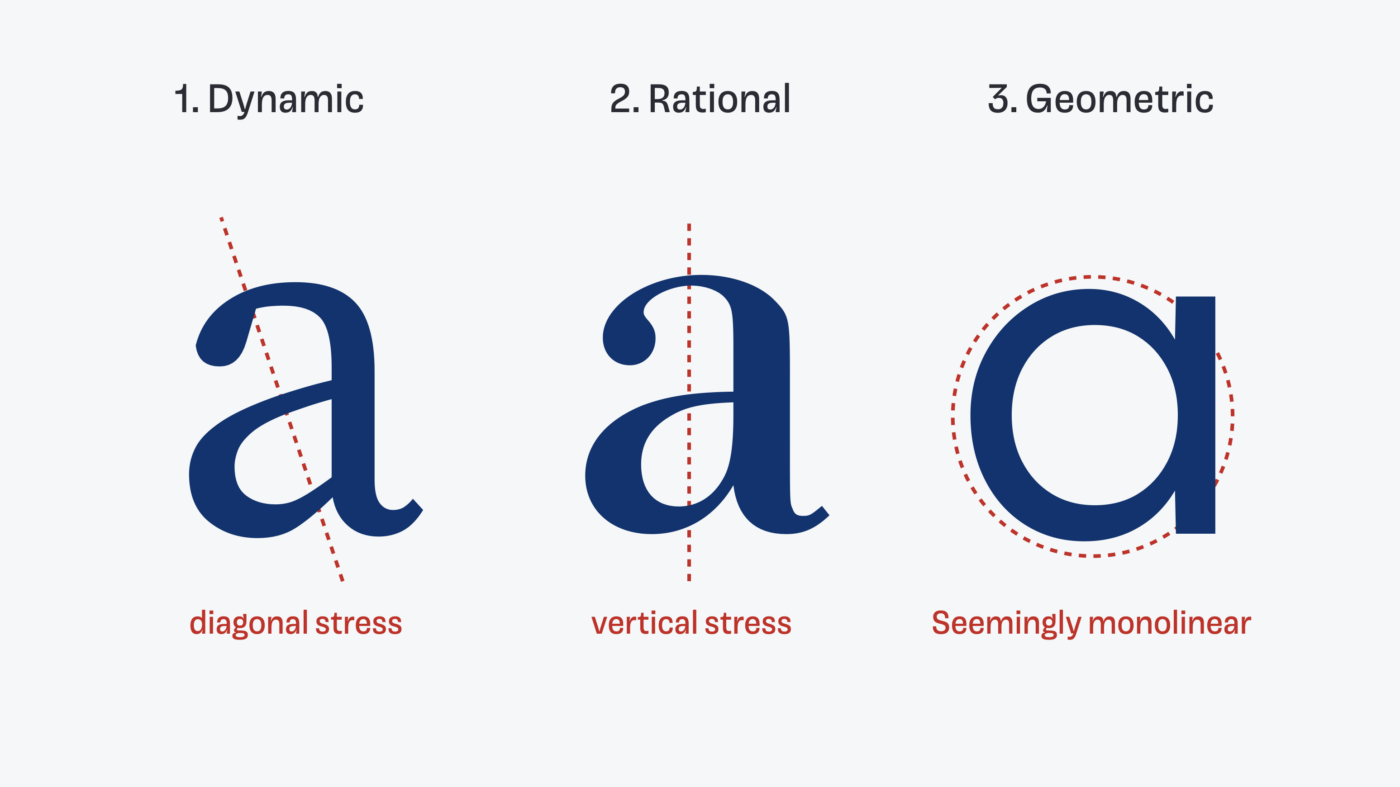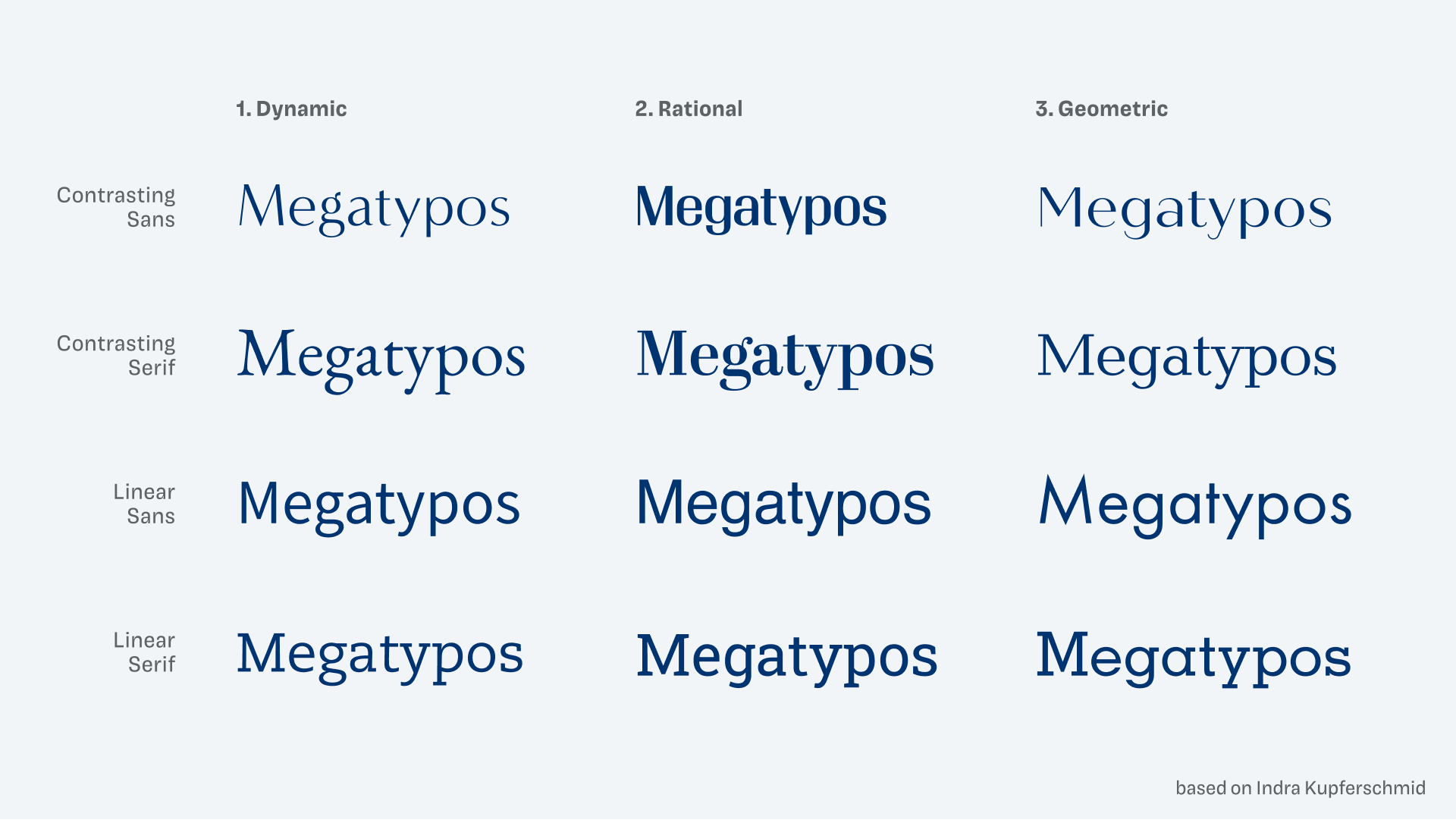 Quotables
"Consistent typography makes text easier to understand."
"The structure of the text and presentations helps you make sense of it, even without knowing the language."
"If you just have one classification system, it's always a big compromise and none really happy and never really works."
"Broad font categories are the ones you can see without a lot of knowledge. Google has a different audience than any of the more sophisticated independent type publishers."
"It's a great adventure to combine typefaces, and no-one should be afraid of it!"
"A lot of contrast between the fonts you use is always pretty fool proof."
"That a very light typeface is nice as a graphic element does not mean that it's nice to read."
"If you have really thin serifs, it depends on the size and screen quality to be represented well."
"Sometimes typefaces on screen look too sharp. Like Times New Roman."
"The web could have profited from a lot more typography and much less illustration and images, but that's not what sells … But I think that role was taken over by lettering and that's good enough for me."
"You can mask a weak combination with color, size, or weight."
Links
Indra Kupferschmid's Website
Indra's main article on type classification
Indra on Typeradio
The Fontstand Blog
Alphabettes
---
What did you think about or conversation? What was the most interesting part to you? Happy to read it in the comments below!