My thoughts on Domine
This week I take you on a journey how various influence shape a typeface and its perception. Ready? Then let's go! Domine by Pablo Impallari is a very friendly, soft and approachable serif typeface, made for long reading text on screens. This is because it combines many classic elements of familiar and popular typefaces. In my opinion, the most influential are Clearface and Clarendron. Let's take a closer look at that and what it means.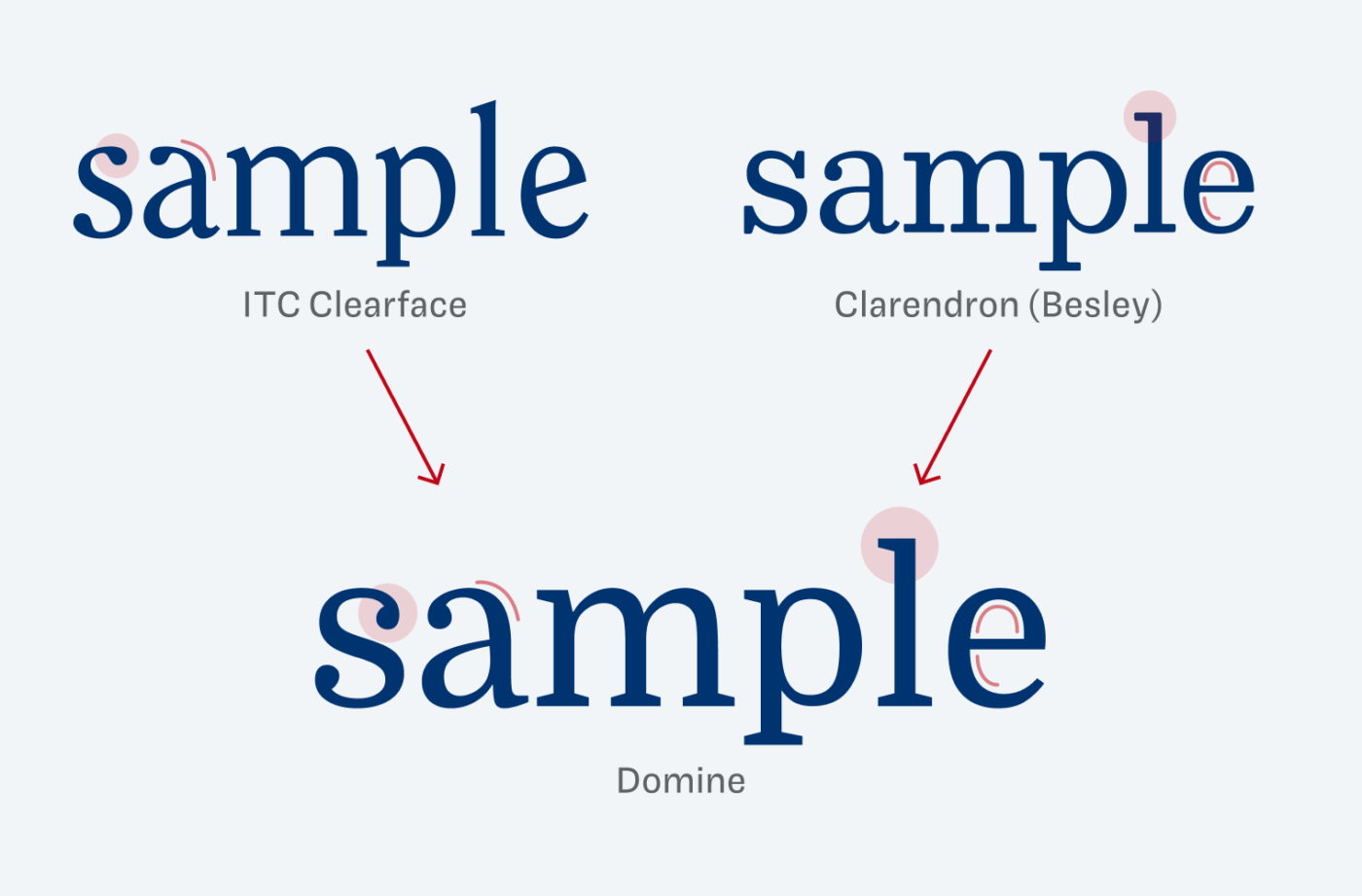 Clearface from 1907 is a very organic, and lively typeface. Clarendon dates back to 1845, and is much stricter and stiffer. Now see how playful curves (at the a and m) and the ball serifs from Clearface are combined with the stricter serifs and squarish counters of Besley (here representing the Clarendron style).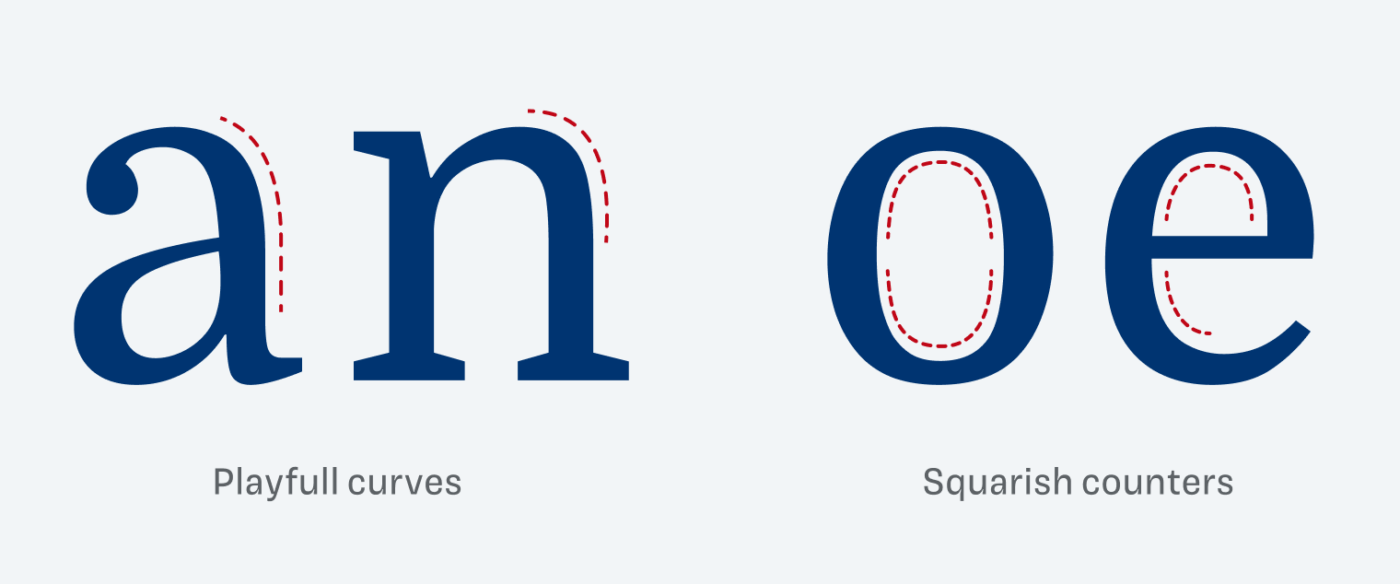 All these details add up to create a certain impression when set in long reading text. And you will see it looking at the examples below. Besley seems very strict and contrasting. It is also quite space consuming. Clearface is super fluid, and simply too much for long reading text. Domine is bringing it all together.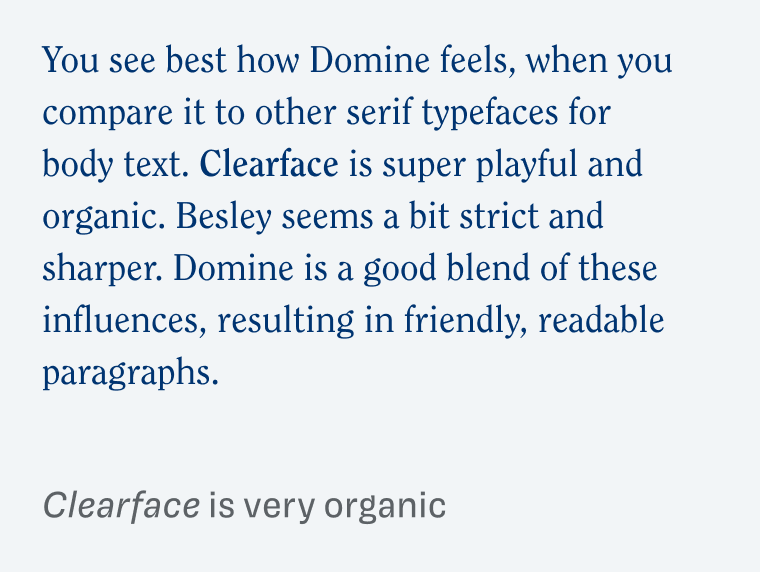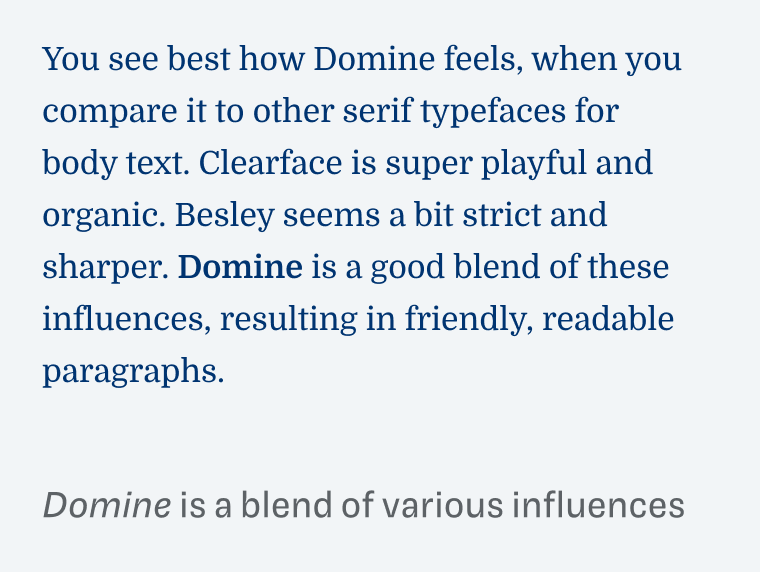 There are only two things I'm not so happy with this typeface. Firstly, Domine only comes in four weights: Regular, Medium, SemiBold and Bold. Unfortunately, the Bold is a bit too light to stand out among the Regular. It's not contrasting enough to emphasize text, especially on screen. You can see that in the example above, especially when you compare it to Besley. And secondly, an italic would be great to be really a useful typeface for long reading text.
The good news is, that you can seamlessly adjust the weight, since it's a variable font. So smaller captions can become font-weight: 500, which is neat. Overall Domine is a good choice for your next project, when you want the body text to be a traditional, but in a friendly and approachable way.
---
What do you think of this week's typeface? Let me know in the comments, and share it with me when you used it in a project!