A designer can't have enough good fonts, right? Here I reveal some of the sources for my weekly Font Friday Newsletter. This is a growing list of quality places for finding new fonts, free quality fonts and quality foundries. It focuses on the application in digital products, apps and websites. Bookmark and enjoy.
Directly jump to my sources for:
My preferred marketplace
In 2021 ILT expanded from a beautiful place to read and learn about typefaces to a beautiful place to discover and license typefaces. With a good and growing varyity of typefaces for buyers and fair conditions to foundries and the great and innovative tool CEDARS+ to discover typefaces. More on that in my talk with Nadine Chachine.
Finding new fonts and foundries
It's always good to stay up to date with all the developments in digital typography. Here I get my news, and these sites offer newsletters that make it easy not to miss anything.
One of my favorite place to browse fonts with a focus on web. Jeremiah Shoaf collected and curated a ton of resources for inspiration and fonts in use on website. Most of them in very trendy, contemporary or arty applications. Sign up for his weekly newsletter, too!
Every week Noemi Stauffer sends out a list of new contemporary typefaces from independent designers, mostly open-source.
Great tool to look for fonts in different applications (mostly print though). It's a very visual inspiration and offers a handy category search too.
Newsletter and Podcast by The League of Movable Type. Offering interesting links on design general but with a focus on type design and typography. I enjoy listening to the podcast to gain some additional insights from the two hosts Olivia & Micah, but if you like it efficient just browse through the newsletter.
A great visual way to browse new fonts not by their letters but by their applications. This makes it a bit easier, especially but not only if you're new to the process of picking a typeface. You can quickly gasp how it might perform in a realistic environment.
I really like this idea – fonts categorized by moods, since this is a topic many people struggle with. It provides a catalog of free and paid fonts and a nice way of previewing it!
Free and Open-Source fonts
Although I strongly encourage clients to set some funds aside for font licensing, at times it's not possible. Here are some places I go to find quality fonts for projects with a tight budget. Free does not always have to be bad and these foundries certainly aren't. The downside is though that some fonts are pretty popular, thus overused.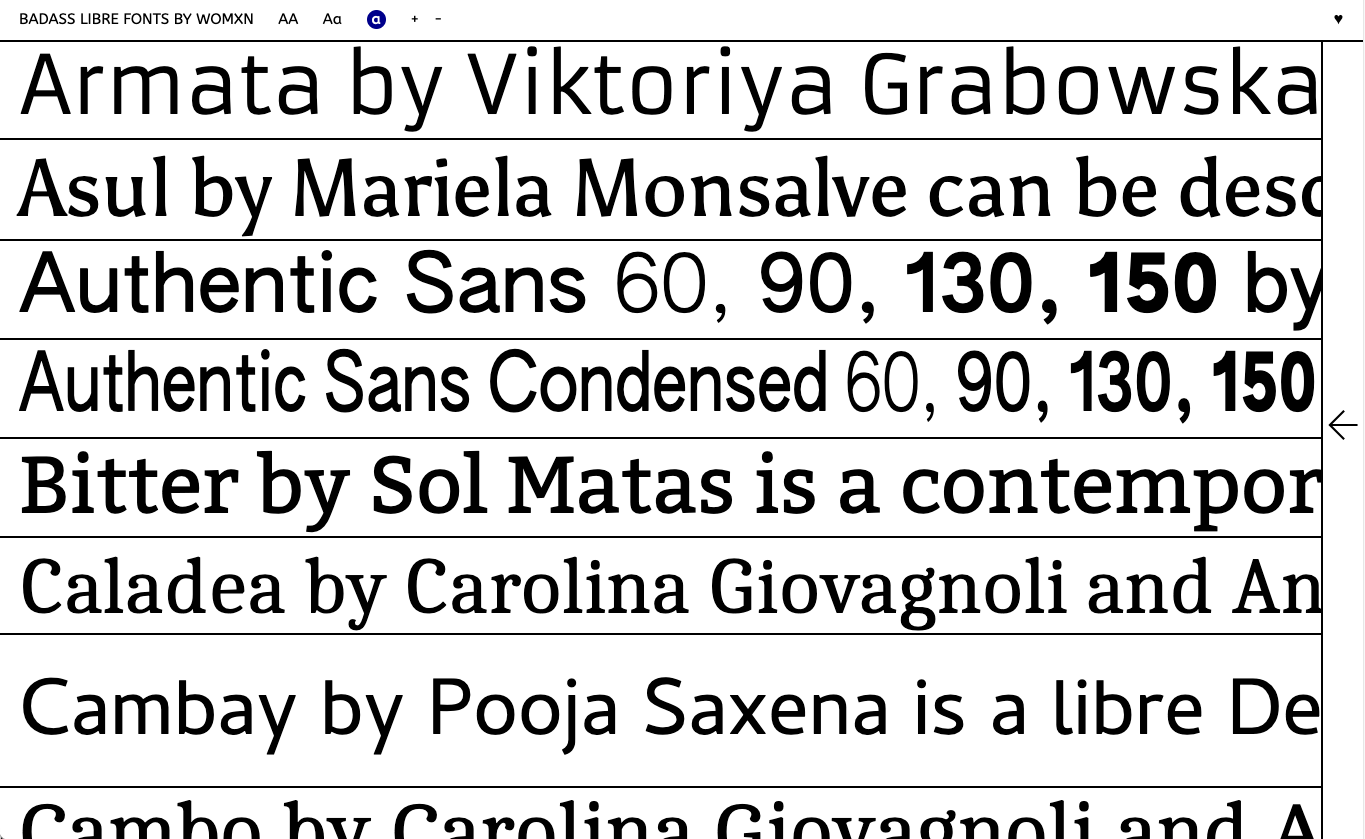 The first open-source font foundry, raising the design standards of the web since 2009. Free quality fonts, some of them are very popular.
Well curated and presented list of open-source typefaces by Chad Mazzola. Mostly available on GoogleFonts but not only.
Collection of free fonts for web projects, most them also available on GoogleFonts (but not all). They offer direct download and subsetting, a "Font Playground" where you can try all the fonts out. I appreciate the Collections, a gallery with typographical inspirational websites.
I'm a long time visitor of this site. They offer a variety of quality fonts and a Pay-what-you-want license for personal unpaid projects, student projects, and to test in project mock-ups for client approvals. The licenses for commercial projects are moderate, too.
The tiny foundry of Owen Earl focuses on contemporary free and open source revivals of the classics. It's a growing catalog containing a Futura (Jost), Bodoni and Clarendron (Besley) as variable fonts made with lot of attention to details.
fontshare's mission is to make high-quality and technically sound fonts accessible to everyone across the globe. It's by the folks behind Indian Type Foundry (ITF) and all fonts are free for personal and commercial use. I truly appreciate that a lot of variable fonts are already on this growing collection.
UNCUT.wtf is a libre typeface catalogue, focusing on somewhat contemporary type. Most of these free fonts are very striking and rough, come with a reduced set of styles and an incomplete character set. But they are very fun to browse through. For a good headline or some short body text, they can convey that feeling of being cutting edge and super hip.
A wonderful compilation of typefaces available from all over the internet by womxn designers. Recommended to my by Patrick, after I shockingly found out that I featured way too little fonts by women on Font Friday.
My preferred quality font foundries
Here are some of my favorite type foundries. Most of them offer fonts at low to moderate prices. To make them easier to compare, I added starting prices for individual styles, discounts apply for font families.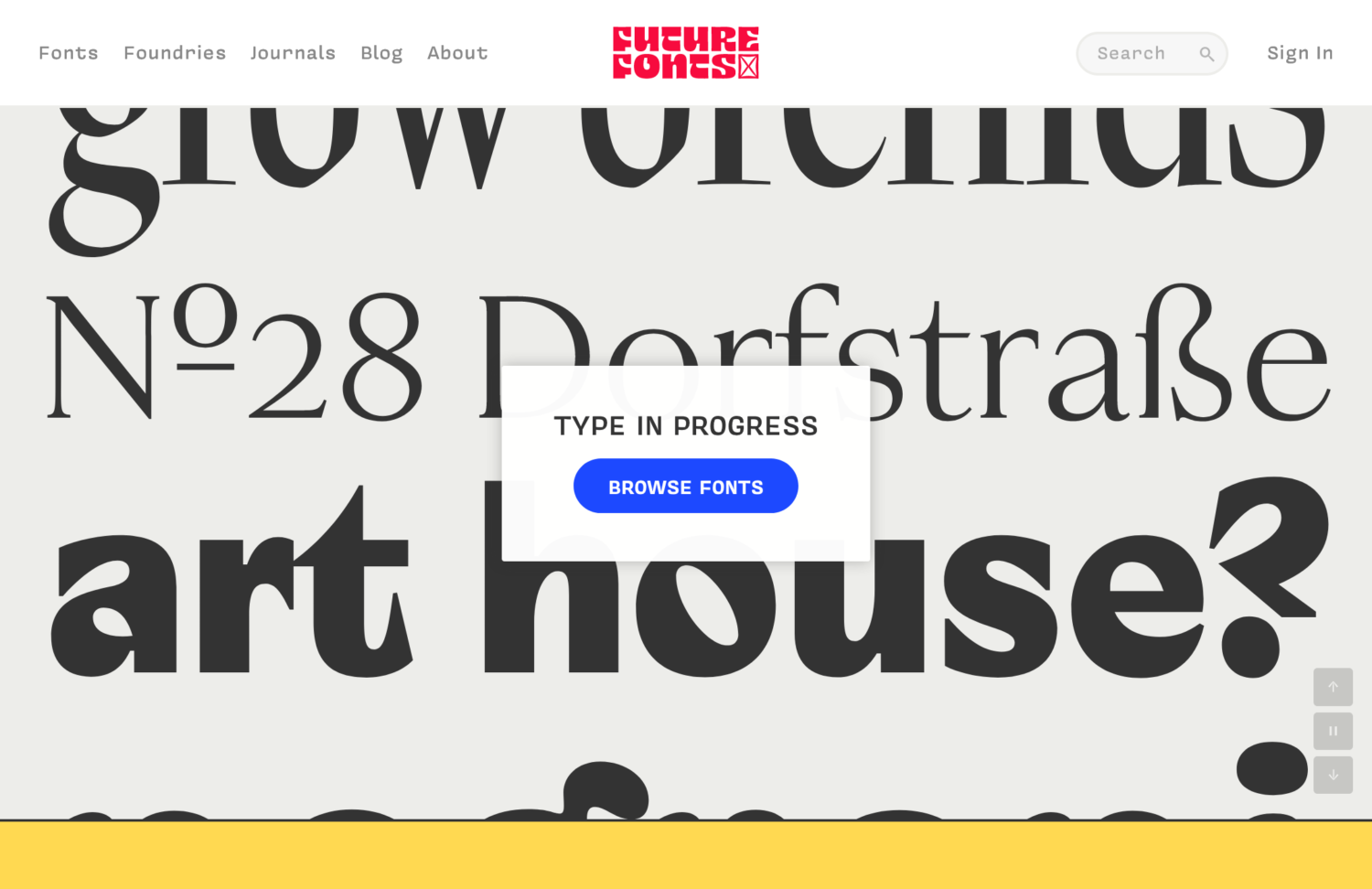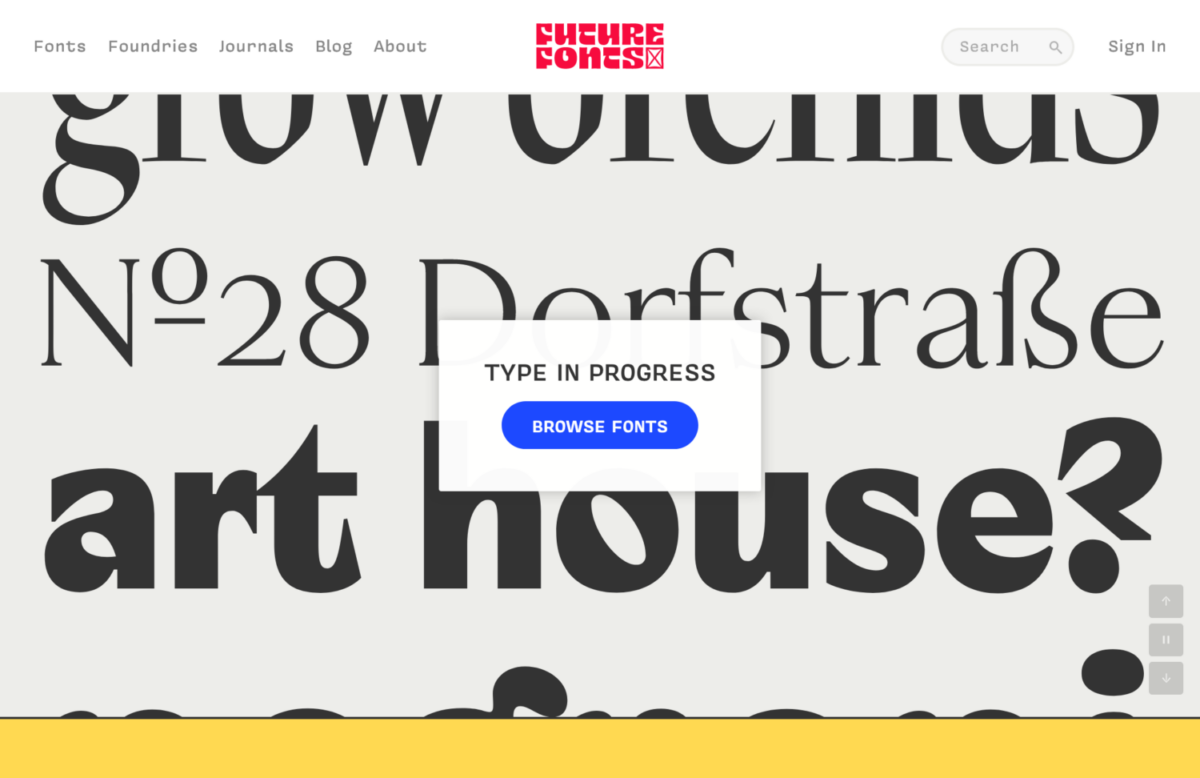 Sells experimental, high-quality fonts in progress. Mostly focused on expressive display fonts, if you get in early you pay the cheapest price and get all updates towards the final font. I love this concept of supporting independent designers and new fonts, and already got some fonts there.

Trial fonts: Some fonts offer free trials
Web license: from € 15 per style/family depending on the state of progress
App license: from € 50 per style/family depending on the state of progress
David is an incredibly versatile type designer who offers many typefaces for different applications and does a lot of experimentation with variable fonts. Licenses are friendly for digital publishing and starting at low prices, he also offers trial fonts. I strongly recommend his Font of the Month Club, a subscription to get a fresh new font each month directly to your inbox.
Trial fonts: Yes, for all fonts and many are on Adobe Fonts
Web license: from € 42 per style (15.000 page views, incl. desktop)
App license: from € 85 per style (unlimited installation of one title, incl. web and desktop)
The quality of Dalton Maag's library fonts is uncontroversial. They offer broad character support and mostly working-horse typefaces for long reading text. All fonts can be tested with trial versions and many are part of the Adobe Fonts Catalog. Licensing is moderate for desktop use (€ 20 for one style and one end-user), for web fonts it has with an unfortunately high entry barrier (from € 75 per style per year but including unlimited page views). Bressay, the font for the body text on this website is from Dalton Maag.
Trials: Yes, for all fonts and some are on Adobe Fonts
Web license: from € 75 per style per year (unlimited page views)
App license: from € 75 per style per year (unlimited installations of one title)
I love the variety of typefaces that latinotype offers even though not all of their typefaces conform high quality standards in every detail. They have a focus on a broad library and come pretty affordable. Desktop and web fonts start from around € 30 to € 35 per style. Basic Sans, the font for the headlines on my website is from latinotype.
Trials: No, but they offer some free fonts and some on Adobe Fonts
Web license: from € 25 per style (10,000 page views per month)
App license: from € 250 per style (unlimited installations of one title)
Fontfabric offers a solid library of typefaces covering various styles at a reasonable price. Founded in 2008 by Svet Simov in Sofia, Bulgaria, all theirs fonts include the Cyrillic alphabet and Latin characters of course.
Trials: No, but most families have a free style
Web license: from € 25 per style (10,000 page views per month)
App license: from € 250 per style (unlimited installations of one title)
Fontwerk is a rather new foundry located in Berlin, but collaborating with type designers across the globe. Their catalog is already quite versatile, and I'm a big fan of their approachable licensing that includes web, app, eBook and desktop usage in every package.
Trials: Yes, with a reduced character set and not OpenType features.
Web license: from € 50 per style (100,000 page views per month)
App license: from € 50 per style (limited to 1,000 installations of one title)
I became aware of the foundry Newly, when Miles Newlyn commented on one of my FontFriday recommendations. That's when I discovered their beautiful catalogue that's covering several typographic styles, executed with precision and heart, also focusing on some remakes of popular historic typefaces.
Trials: Yes, and their fonts are also available on Adobe Fonts
Web license: from € 22.50 per style and year (10,000 page views per month)
App license: from € 180 per style and year (unlimited installations of 1 title)
---
Did I miss your favorite font resource? Leave it in the comments below or email me!