Pairing Typefaces like a Pro – Online Course
Learn how to create great font pairs, without the guessing, in just 3 days
An engaging typeface combination is essential to make your project stand out, and perform well in the given situations. But for a lot of designers, mixing typefaces is a challenging and time-consuming process. Eventually, you decide on a set of fonts intuitively, unsure if they are really the best choice. Enough of that? Then learn how to get great font pairs, without the guessing, in just 3 days!
Introducing the Font Matrix
Make better decision for any type combination. The Font Matrix is a different way to look at typefaces, helping you find harmonious matches. After covering basic principles in pairing fonts, and making you more sensitive in seeing and describing type, I will teach you the principles of the Font Matrix. Combined with short and fun challenges to practice, to make sure that you can apply it easily in your daily work.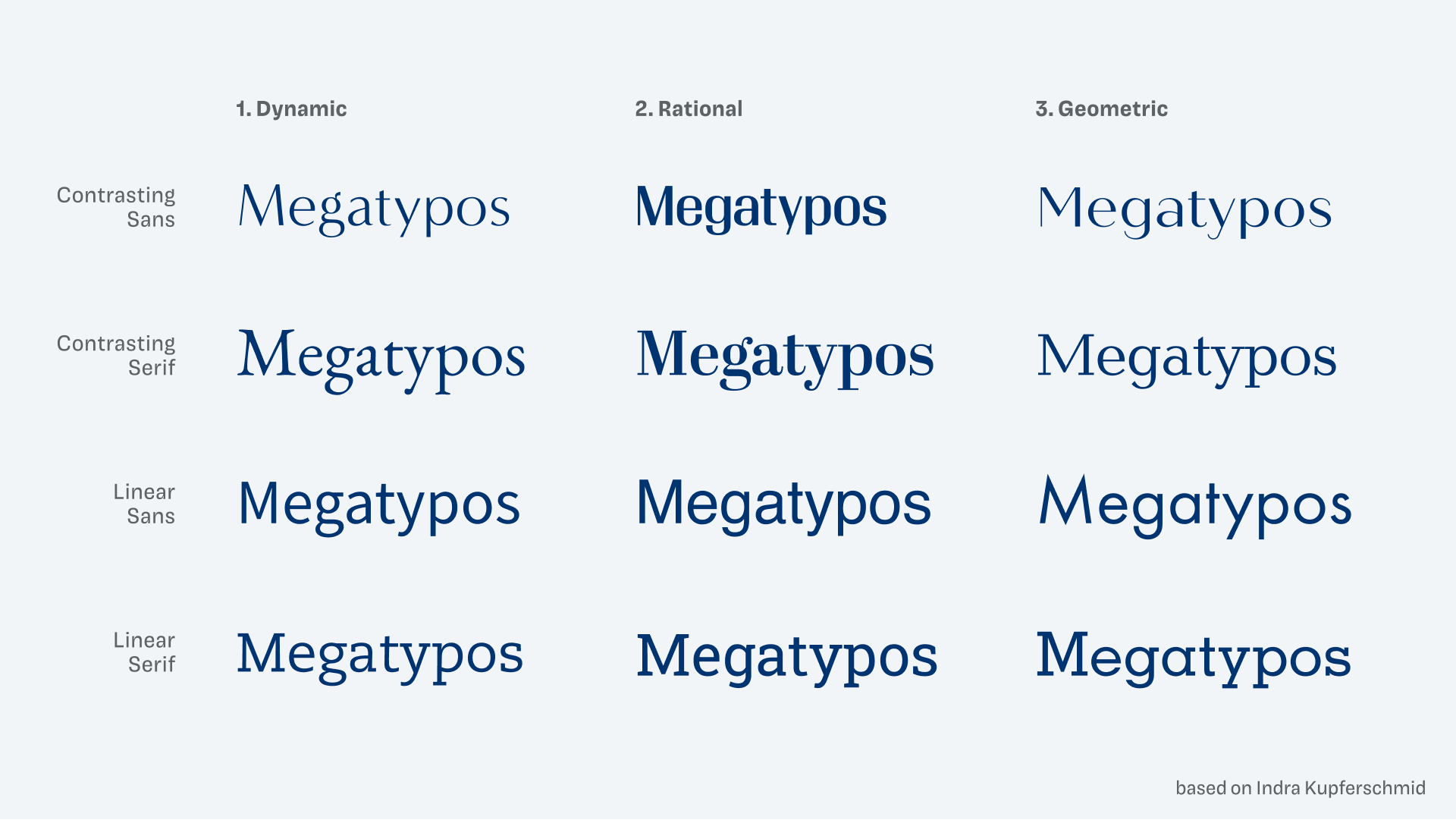 Hello, I'm Oliver from Pimp my Type
Discovering the Font Matrix based upon Indra Kupferschmid's work drastically simplified my own typeface decision-making. After over 15 years working as a UI and app designer, it finally gave me the ability to pinpoint why some type combinations work, and some don't. Now I want to pass this knowledge on to you.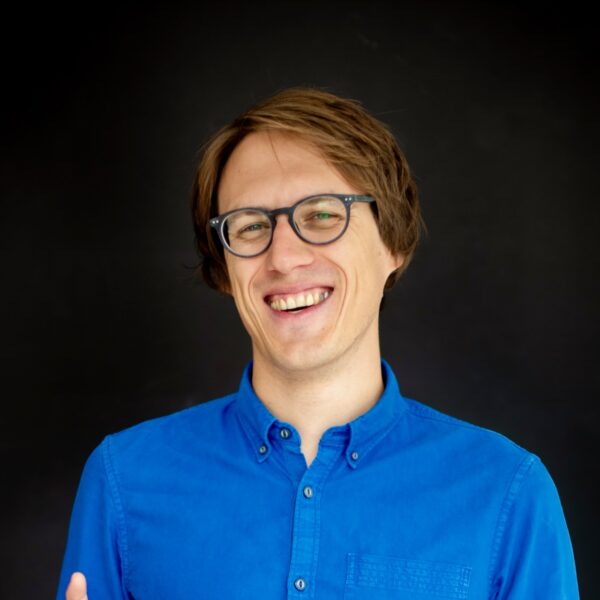 Become better in pairing typefaces in 3 days
Within one workweek, I will teach you all the essentials you need to know to pair fonts more confidently without having to learn all that design history. The online course comes with three 1½ hours recorded session. The recordings have chapter marks, so you easily jump to the parts that you want to. Small challenges (exercises) that should not take you longer than 30 min to one hour, bind the days together. As a bonus, you will also have access to a 30-min coaching call with me.
Day 1: Enhanced Type Perception
Day 1 is about reflecting on basic principles in pairing typefaces, and how you can enhance your visual perception to make better decisions. It will set you up for getting a better understanding of the Font Matrix.
Reasons for pairing typefaces
The right typeface for the right kind of text
Make it similar or make it different
Using common type classifications for contrasting pairs
How to describe and compare typefaces, to find better matches
Day 2: The Font Matrix
On the second day, we enter the Font Matrix. You'll learn about a different way to see and categorizing typefaces and how it helps you find better matches. Among two group exercises, we will also play Type Tinder together, to see if you can spot if it's a match or not.
A three-layered system for describing type
Layer 1: Form model (skeleton)
Layer 2: Contrast & serifs (flesh)
Layer 3: Finer differentiation (skin)
Using the Font Matrix to find harmonious matches
Type Tinder – Match or no match?
Day 3: Advanced Techniques
On the last day, you will learn some advanced techniques. When and how you can use the Font Matrix better, and where its limitations lie. I'll show you my proven workflow for finding good matches, and give feedback to your font pairs.
Feedback on your font pairs
Glitches in the matrix (edge cases and limitations)
A proven workflow in pairing type
Tips and tricks when pairing fonts close together
Common pitfalls
Course wrap-up and what's next
Bonus: Individual Coaching Call
As a special bonus, I offer you a 30-minutes coaching call to give you feedback and further advice on your challenges.
What attendees say
This is the feedback I got from students:
"The outcome I had hoped for when enrolling in your workshop was indeed the outcome I experienced – that is, to be better able to pair typefaces, and to do so with some purpose and some insight, and without magic and without guessing."

Michael Zastre
"It was an insightful and enriching experience. The course gave me a new perspective on pairing typefaces and confidence in my ability to pair contrasting pairs with ease."

Asmita Jalali
"Thank you, I loved the class! Can't say I usually laugh out loud in workshops, was a pleasure!"

Amanda
"I love the fontastic font pairing course!! Oliver is friendly, approachable, and fun, all while encouraging you to explore and learn about fonts. With both theory from the live workshops and feedback from the practice exercises, I completed the course feeling confident with a new skill. If you want to learn a pragmatic and practical way to pair any font, this is the course for you."

John Armstrong
"I really enjoyed the workshop, Oliver is a lovely person, had a great presentation and very well prepared content. Although I count myself as an advanced fontomaniac, I was very satisfied. It was funny, interesting, and educational. I also enjoyed the exercises and Oliver's personal approach!"

Andrea Grigerová
This course in a nutshell
Where you are right now
Finding type combinations takes you forever.
Most advice you found is very vague and fuzzy.
You feel it's more like guessing, missing the rational part, or clear guidelines.
You often search the internet for font pairs, but many times the results don't fit your project.
Eventually you make a decision, but it's always a hassle.
After this course, you will
Get to a confident decision in pairing typefaces faster.
Have a guideline to judge any typeface combination from any source, like Google Fonts, Adobe Fonts, your favorite foundry, Microsoft Office, or the fonts that have been on your hard drive for years.
Have a workflow to find harmonious matches.
Know what to pay attention to when looking at typefaces and pairing them.
Skim through type catalogs quicker, knowing what will and what won't work.
This course is for you if …
You are a web, graphic, or UI designer, and want to have a few more tools in your typography belt.
You are advanced in your typographic skills. Meaning you practice it regularly, already took some courses, read some books on it, and can tell the difference between sans-serif, serif, and script fonts.
Are familiar with choosing typefaces, but struggle with finding good pairs.
You want to learn in a practical online course that's oriented towards your needs as a digital designer.
You want to see results quickly and apply it right away in your next project.
Don't take this course if …
You are a beginner in typography, and don't have any experience in picking typefaces or setting them. If you are, here is some free content that should help you: How to Choose a Typeface
You want a strong focus on print. This course is aimed toward digital typography; however, the basic principles apply in print as well.
You're looking for a guide on how to find good fonts; this course focuses on pairing them.
You expect this course to supplement practicing. It will give you new tools and guidelines, but eventually you'll have to do the work 😉.
Enroll now
What's included
Recordings of three 1½ hours teaching sessions
All well-structured with chapter marks
9 Challenges
Downloadable slides and materials
Life-time access to the upcoming on-demand online course
Bonus: one individual 30-min coaching call
Your time investment
For the sessions: 1½ hours each
To complete the challenges: up to one hour (ideally after the session).
Pairing Typefaces like a Pro – Online Course
With 3 recorded teaching sessions, 9 Challenges, slides & materials, 1 individual 30-min coaching call, life-time access to the upcoming on-demand online course
Introduction price
Get it at the lowest price point now (+ tax)
What you'll need: